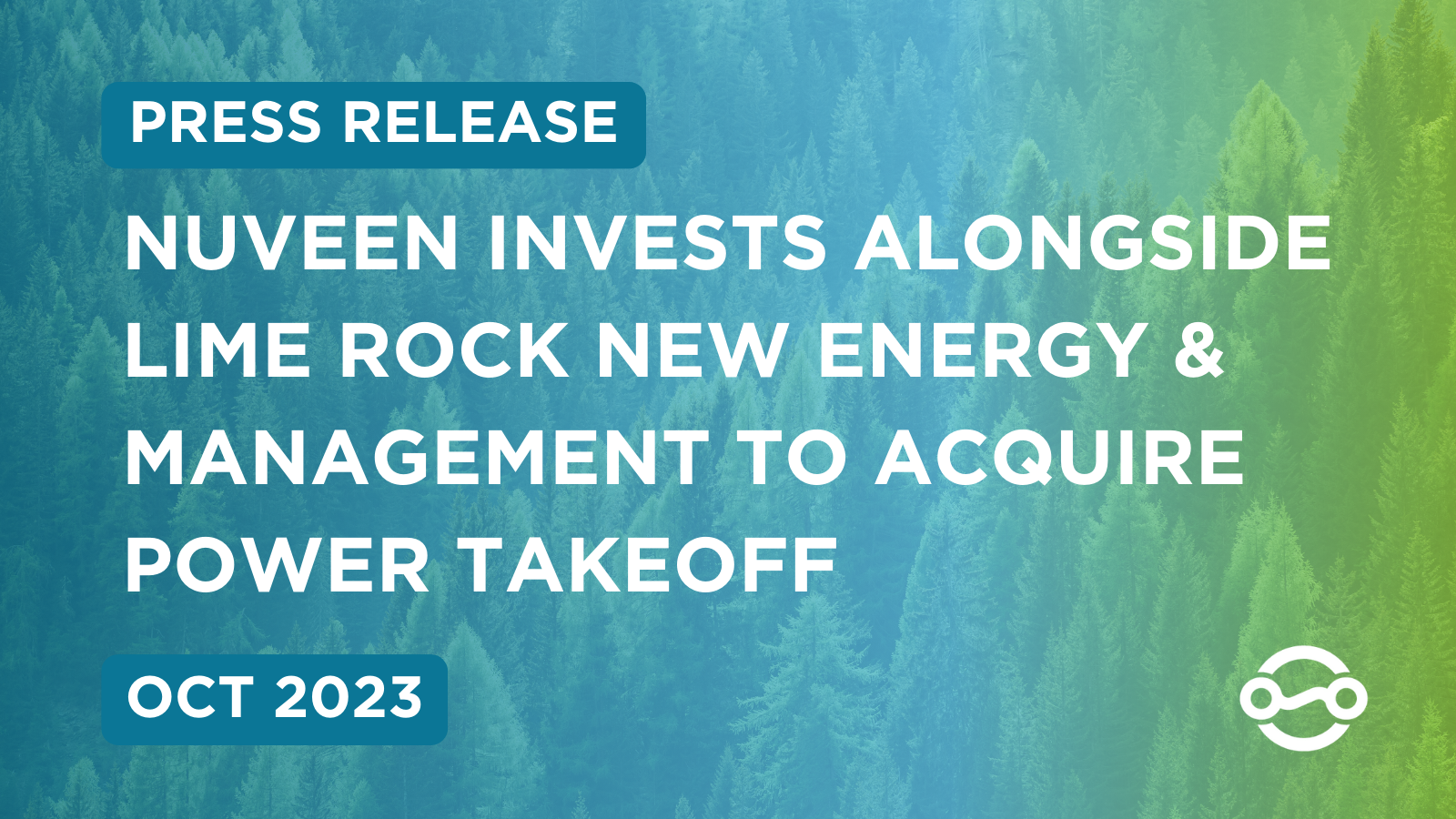 Nuveen Invests Alongside Lime Rock New Energy and Management to Acquire Power TakeOff
Nuveen will leverage its impact investing expertise and real assets capabilities to further position Power TakeOff as a leading provider of energy efficiency services for small and medium business customers.
DENVER, CO – Nuveen's Private Equity Impact team joins Lime Rock New Energy to invest in Power TakeOff, a software-enabled energy efficiency services company. Power TakeOff's AI/ML-based offerings generate significant energy savings and greenhouse gas emissions mitigation for the traditionally underserved small and medium business (SMB) market. The investment represents the seventh in the Nuveen Global Impact Fund I ("NGIF I") and aligns with Nuveen's goal of driving an inclusive transition to a low carbon economy.
Nuveen will leverage its experience scaling impact-oriented businesses while bringing expertise from its broader real assets and private markets platform to support Power TakeOff in this next stage of growth. As part of the investment, Radhika Shroff, Managing Director on Nuveen's Private Equity Impact team, will join the company's board of directors and will work collaboratively with the board to manage impact performance while driving the growth of the business.
"Energy efficiency is an essential component of the transition to a low carbon economy, accounting for more than 40% of the emissions mitigation needed by 2040," said Radhika Shroff. "By leveraging Advanced Metering Infrastructure (AMI) data and artificial intelligence, Power TakeOff is tackling this challenge head on, targeting the SMBs that are so often overlooked in the energy efficiency space. We are excited to work with the company and Lime Rock New Energy to bring our team's expertise in decarbonization to address underserved segments and to leverage Nuveen's real assets platform knowledge base to support the company's next phase of growth."
Through its partnerships with major utilities across the U.S., Power TakeOff identifies power savings opportunities for SMBs that are delivered virtually and that do not require capital expenditures to implement. Power TakeOff's energy advisors engage directly with SMBs to implement these changes to reduce energy usage. This results in power bills for SMBs that are, on average, 17% lower with a corresponding reduction in CO2 emissions, all at no cost to the SMB customer. Power TakeOff has pioneered a pay-for-performance model that allows utilities to enter into these contracts with minimal risk and generates the type of revenue-aligned impact that Nuveen targets for NGIF I.
"Nuveen's focus on climate inclusion is directly aligned with the mission of Power TakeOff," said Peter Widmer, Co-CEO of Power TakeOff. "We seek to generate community impact alongside significant energy and emissions savings, and are glad to have found an additional partner in Nuveen who shares that goal."
Nuveen is a pioneer in impact investing, with a long track record of driving strong financial results and a positive influence for society's most pressing problems. The Private Equity Impact team seeks to drive an inclusive transition to a low carbon economy, targeting disruptive businesses that reduce waste and emissions, use resources in a circular manner, and expand access to and reduce the cost of basic products and services for underserved consumers. Nuveen made its first impact investment in the 1980s and now manages over $1.0 billion in private equity impact capital.
—
About Power TakeOff
Since 2007, Power TakeOff has been an industry leader in the creation of data-first, virtual utility products, services and efficiency programs. Specializing in Energy Information Software, Power TakeOff uses advanced analytics to simplify the vast amount of utility AMI data into personalized, custom energy efficiency recommendations with proven, advanced M&V statistical saving results. Utility leaders across North America rely on Power TakeOff to transform complex, non-residential engagement challenges into solutions that deliver exceptional customer experiences and results, increase utility revenue, meet efficiency goals, and reduce GHG emissions. Visit us at www.PowerTakeOff.com.
About Nuveen
Nuveen, the investment manager of TIAA, offers a comprehensive range of outcome-focused investment solutions designed to secure the long-term financial goals of institutional and individual investors. Nuveen has $1.1 trillion in assets under management as of 30 June 2023 and operations in 27 countries. Its investment specialists offer deep expertise across a comprehensive range of traditional and alternative investments through a wide array of vehicles and customized strategies. For more information, please visit www.nuveen.com.
About Lime Rock New Energy
Lime Rock New Energy is a growth equity investment partner for entrepreneurs building differentiated, innovative, and growing energy transition businesses. It invests in companies across three critical sectors: products and services to drive faster adoption of renewable energy and grid modernization, energy efficiency for industry and the built environment, and decarbonization of transportation. In partnering with entrepreneurs leading growing businesses that reduce carbon emissions, the Lime Rock New Energy team seeks to accelerate their companies' growth with capital, strategic and process experience, operations expertise, and the team's deep network of relationships across all facets of the new energy economy. For more information, please visit www.lrnewenergy.com.