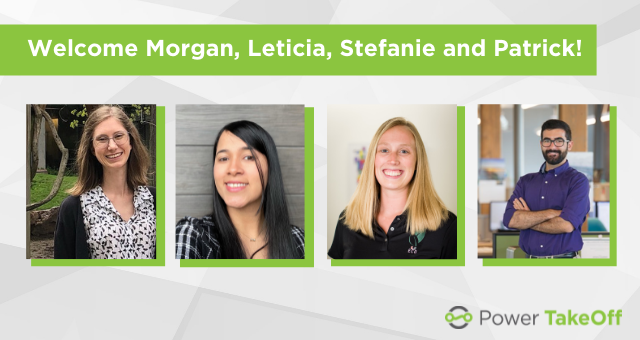 Welcome Morgan, Leticia, Stefanie and Patrick!
Power TakeOff is excited to kick off 2022 with the addition of four new incredible team members, joining both the Analytics and Energy Advisor teams. Welcome Morgan Mastrovich, Leticia Menghini, Stefanie Getz and Patrick Kearney!
Morgan received her Masters of Science in Physics and Quantum Information with a focus in experimental quantum optics from the University of Waterloo in 2019.  After she realized that cooping herself up in a lab and playing with lasers all day was definitely not going to help address the world's impending ecological collapse, Morgan left academia and found work as a barista in a Waterloo cafe. She spent her remaining free time on electoral organizing, leading a team of volunteer phone bank organizers with the Sunrise Movement during the 2020 US congressional elections. Now that she has connected with Power TakeOff, Morgan is thrilled to put her technical skills to good use helping to reduce the energy footprint of America's small businesses. 
Leticia moved to Denver from Brazil this past year after working in oil and gas regulation to protect public health and the environment. Leticia graduated in Petroleum Engineering, following her passion to find ways to provide energy for the world, while safeguarding the environment for future generations. Following her previous career in conducting environmental evaluations and improving environmental performance, she is excited to join the energy efficiency industry to inspire change for people and the climate.
Stefanie graduated from the University of Miami with a BS in Environmental Engineering. She has always been passionate about helping the environment. That excitement along with energy industry experience working for the utility Florida Power & Light led her to this role where she hopes to use her skills to make a positive impact for the planet.
Patrick graduated from the Rochester Institute of Technology with a degree in Civil Engineering Technology. Patrick has a passion for green energy and wishes to create a positive impact on the environment through more energy efficient means. He hopes to use his previous experience working in the hydropower industry to continue growing and learning in the energy industry with Power TakeOff.
We are thrilled to have these dedicated, driven and sustainability-focused team members join Power TakeOff. Welcome!