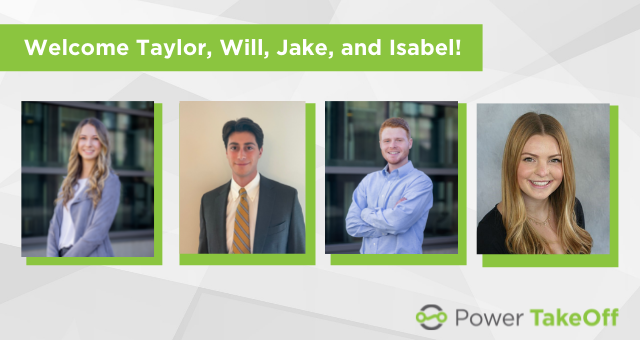 Welcome Taylor, Will, Jake and Isabel!
Power TakeOff is proud to welcome 4 new energy advisors to our rapidly growing team. Meet Taylor Heisler, Will Johnson, Jake Ilgenfritz and Isabel Aschbacher.
Taylor graduated from CU Boulder in 2021 with a degree in Environmental Studies. She is passionate about making a positive impact on the planet. Taylor plans to use what she has learned in both her undergraduate degree and her internship with the American Solar Energy Society to increase energy efficiency and make a real difference in combating climate change.
Originally from a rural town outside Philadelphia, Jake graduated in 2020 from West Virginia University with a bachelor's in Environmental and Energy Resource Management. Jake's passion for the great outdoors inspired him to pursue a career that would benefit the planet. Jake hopes to make a difference at this crucial point in time so that future generations get to enjoy the same outdoor experiences.
Will comes from Indiana and attended Indiana University in Bloomington where he earned a degree in Environmental Management. Shortly after graduating from college in 2020, Will moved to Denver and began working for a software company called Improvado, which specializes in digital marketing data aggregation and reporting as a member of the sales team. After working for Improvado for almost a year, he made the pivot to Power TakeOff to begin his career in the energy industry.
Isabel has a B.S. in Environmental Science from the University of Denver and she is passionate about GHG emission reductions. Isabel also has experience in customer relations, making her an incredibly valuable asset to our team!